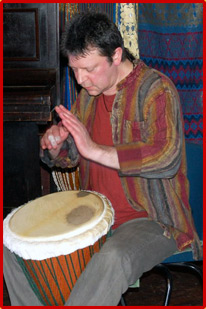 Andy is the originator of Djembata, named after the West African-inspired polyrhythm he devised in 2001.



He'd wanted to be a drummer from around the age of nine but was deemed too intelligent. Eventually he taught himself to play and, after a serious blow to the head, at 16 he finally got his own drum kit. He now has over 30 years drumming experience and feels that he might get it right any day now.



Andy began leading regular percussion workshops by accident, after walking into the wrong room at an Arts Centre in the mid-1990s. He'd just bought his first djembe, and was drawn to the sophisticated West African tradition. His many teachers have included Ayodele Scott, Seckou Keita, Nansady Keita, and the late Magatte Dieng.



Andy and his wife Rose joined world roots band Vitae and, with Justine Hart and Jed Hoile, founded Vitae Drum Circle in 1998 to bring West African drumming to people even more arrhythmic than themselves. This spawned World Drum Day and the annual WinterDrum festivals and African Beats Camp.
Since being permanently exiled to the custard mines of Llanidloes in 2000, Andy has continued to run drum workshops for (amongst others) schools, youth clubs, corporate development, activity weekends, disaffected youth, mental health groups, people with learning difficulties... and occasional benefits for ex-miners suffering from custard lung (where the unfortunate victims in their hundreds and thousands believe they are merely a trifle under the weather until their legs turn literally to jelly and their families dessert them.)
Andy runs LlaniDrum circle, and with Roger he teaches the Clattertonic circle at Clatter (really!) for whom he wrote the rhythm Klatta in response to a challenge from Ruth. His other current musical interests range from playing drum kit in a Blues band, percussion for a Ceilidh band and the Klezmonauts, to "Blaidd Spirit", his multi-instrumental collaboration with accomplished artist and talented violinist Sara Philpott.
Aside from music, his interests include being utterly wrong about the weather and shouting at traffic. For the past 7 years Andy and Rose have run Earthlight Crystals in Llanidloes ~ now stocking Kambala djembes!