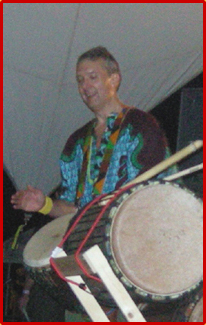 Mike is one of the most recent additions to the band, having been found hiding in one of the duns before a gig. Music has been an essential part of his life for as long as he can remember (at least a week). He was subjected to his father's passion for big band jazz whilst a toddler, but fortunately his hearing has since partially recovered. Later he developed a love of many diverse forms of music, although the pleasure to be found in opera and rap still eludes him.



Strangely, this love of music seemed destined never to translate into any ability to play it. Just as his Dad eventually conceded defeat to the trombone, Mike has wrestled with his guitar for far too many years (it is currently ahead by two submissions to one). All this changed a few years ago with his discovery of drumming. After a brief flirtation with Japanese Taiko, he was introduced to the Djembe one evening in the mid Wales village of Clatter (honestly) and it was love at first strike. Nowadays, when not actually drumming, Mike is thinking about drumming (he knows this is dangerous, but can't stop), muttering rhythms to himself and trying to remember what comes next in Andy's fiendishly complex compositions and arrangements.
Notable experiences in Mike's life have included: several years as a radio cricket commentator; standing in the 1987 general election for the Green Party; 25 years working in nature conservation, often involving being in wonderful but uncomfortable places, or being shouted at by people who don't share his values; being vegan for over 30 years; spending countless blissful days in the mountains of his beloved Lake District; running several marathons and half marathons; and being his now grown-up son's Dad, which tops the lot. As yet unfulfilled ambitions include writing a fantasy novel, saving what's left of the natural world from the human race, and learning to dance Salsa gracefully ("wiggle those hips!"). He intends to continue drumming for the rest of his life, or until the other members of the band notice and put him back in the dun!