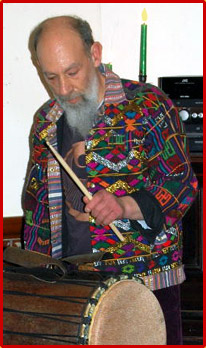 In his own words, lovely Satch is lovely! He is a Welsh African, born in a country that no longer exists...



Satch spent his younger years in South Africa during the apartheid era playing African drums and acoustic guitar in a multi-ethnic band - which caused no end of problems for the authorities, but the strong faith Satch has in Love and Light kept him safe through those troubled times. Eventually though, he left South Africa and spent several happy years busking and surfing in Europe, loving life and living it to the full, as all good people are obliged to do!



In the late 1970's Satch came the UK, met loads of wonderful people, loved it here and so stayed. He worked as a guitarist and songwriter in various bands, while learning the arts of recording and production, working with many well-known engineers and producers in all the top London studios during the 1980's.



Satch met his soul-mate, singer songwriter Susan Raven, in the early '90s and together they have produced two beautiful CD's. They now regularly perform live at venues and festivals throughout the UK and have built a strong international on-line following.
These days, as well as playing drums with Djembata and working in music with Susan, Satch is a composer and a musician, audio engineer and producer.